Leslie writes "In the early 1980s I was running our John Deer 4440 on a farm that's known was the "Cottman Farm"; nestled against the Great Miami River's East bank and directly across from Chautauqua Ohio.
This was early Spring and a fairly warm day. I was chisel plowing and spraying pre-emergent herbicide, back and forth along this couple hundred acre field. As I was making a pass near to the river, I noticed movement along the tree line. I looked over and saw what I thought was a man in a fur coat. I'm laughing right now as I'm typing because it struck me as being super stupid. I can still hear my thought, "what idiot hunter is out here in a fur coat on a 75 degree day".
I also was a little concerned so I started looking up and down the fence row, and sure enough, I could just barely make out two more "men". When you're in the tractor, the 4440JD, you sit up about 7-8 feet high and when you are spraying, with the chisels running 8-10 inches deep on average, lots of dust gets kicked up and it's difficult to see across a field depending on wind direction. As I got to the headland row I decided I should just quit and head home. I had that uneasy feeling and decided to trust my instincts. Later that night at dinner I told the men in the family and of course they just made fun and told me to just watch myself and take the shot gun with me.
The next day I got started mid-day and had made a few passes and was just making another turn when I saw this "man" walking across the field. And again, I saw this large "man" walking with the ugliest gray fur coat; the kind that looked almost like lambs wool that was greasy and hung in clumps. This individual didn't give me the same vibe as the "men" from the day before. In fact, the demeanor was that of an older person, calmly out for stroll. It struck me as odd but I didn't feel threatened enough to stop working. I never mentioned this to anyone, not after the ridicule I got the night before. I tucked it deep away the in the recesses of my brain."
I will also be speaking to John. John writes "At that time in 1992 I was a new engineering grad from psu, and I had taken a job with a pipeline company.
I was assigned to keep track of a work crew as a field supervisor that summer to a crew of 5 people as they went from valve site to valve site removing "appurtenances" from the line in preparation for a water pressure test of the pipeline scheduled for later that year.
Some of the valve sites are pretty remotely located. The pipeline location where my story takes place is deep in the Tuscarora state forest in Pennsylvania about 1/2 way between Harrisburg and Altoona. We had about 3 days of work to do at the site. To get to it we had to take an 8 mile long dirt forest road that is literally in the middle of nowhere. We had a track hoe excavator with us to dig up the pipeline etc …. The valve site was located in a valley next to a creek between two decent sized mountain ridges.
On the first day of work the track hoe operator remarked at one point "hey I think someone is walking the pipeline right of way high up on the ridge" … he said he'd briefly seen "someone all in black" up there. We didn't really talk further about that but I remember thinking he had to have seen a bear as this is a long way from civilization to be out on a pipeline ROW hiking, but it didn't concern me further. Some context, at that point in time, Bigfoot did not cross my mind as I'd believed it was only a Pacific Northwest possibility.
Anyhow on the next day it was really sunny and beautiful so I thought I would take a walk up that ridge while the crew did their thing. I started the trek up, making noise (whistling / talking to myself etc ) as I assumed there were black bear around based on the previous day, and I didn't want to startle any of them.
I got up to a plateau area on the ROW where the hillside leveled off for about 50 yards before resuming steeply upward. It was at this point that I could no longer look back down into the valley and see the crew working way in the distance.
Suddenly I noticed how eerily quiet things were. There were absolutely no sounds from the forest on either side of the right of way. This made me nervous, but not unreasonably so.
However, I did now get the strong urge to go to the bathroom, sadly #2, in a place with no facilities for miles. So I found the neared tree to the side of the ROW and did what I had to do. Unfortunately, I didn't have anything useful with me to use for toilet paper. So I decided to sacrifice a sock. I know this is kind of gross, but this sock business ends up being a key point.
So I'd just finished cleaning up, discarding the sock into the forest when I heard what I can only describe as sounding like a very large person stomp their feet twice followed by single, very deep, guttural grunt or Hmmmmph! …. Coming from somewhere back in the forest.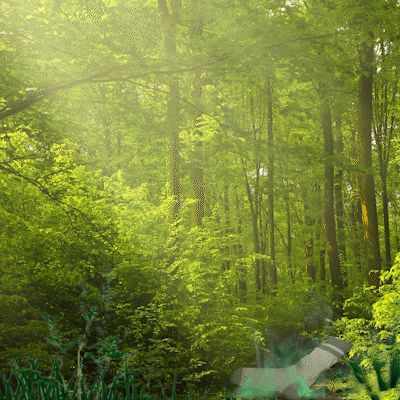 My flight reflex kicked in and I took off back down the mountain as fast as I could. The fear subsided as I got close to the job site and could see the crew, and I worked to compose myself because these guys were the merciless teasing type. I was less than a year out of college then, and they liked to razz me a lot anyway. I didn't say anything to them for fear of ridicule, but I sure stayed close to that job sight all the rest of that day.
Fast forward now to day 3 at the site. I arrived just after everyone else, and when I got there the track hoe operator was bitching at that two laborer guys on the crew saying that their "prank" wasn't funny. You see when he came in that morning just before me but after the laborers, he found the disgusting soiled sock sitting on the track right where he had to step up to get in the track hoe operator seat. Of course they all denied his accusation, and I stayed silent as none of them knew it was my sock (which by the way I could see it was because of the two color stripes). I always wondered how that sock got there.
That's my story in a nutshell."
Stream Player