Tonight I will be speaking to James. James writes "Around 2006 I was about 16 and I had a girlfriend that lives about 2 miles away from me in ft. Drum which is a very small town puts of okeechobee.
One night my dad who was kind of an ahole…to put it lightly wouldn't let me see her so I thought we'll it's late I just wanted to go outside and clear my head but I actually had called my gf prior and we were gonna meet half way and hangout. So I started walking down the hard bars ball road and I got about 1/2 a mile down the road the moon was about half way lit so you had some ambient light.
I was walking fairly quickly I am already a little sketched out about the dark. I would say when I'm about 50 feet from this bend in the road I see something in the middle of the road and I've been living and in the woods and know what certain animal looks like…a bear a hog and deer. This was not either. So I'm thinking this has got to be mind playing tricks. So I keep walking forward I realize the size of this thing at the time I was about 5'4". I get witching 15 ft of this creature and it has not moved a muscle. So I completely freeze up and I am watching this thing if I had to guess it was about 6-7 ft tall and just massive."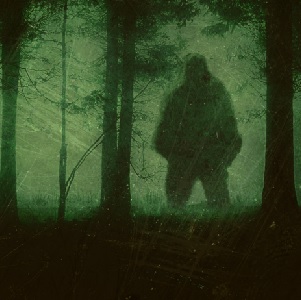 We will also be speaking to Mike. Mike writes "I'd like to tell you about a sighting that I had in 1981 when I was about nine years old. I was born in a town called Saginaw Michigan. It's pretty close to the big Saginaw bay which the Saginaw river and the Tittabawassee river run directly into. I lived right at the edge of the city where there was a large golf course large wooded areas which are now part of the Shiawassee wildlife refuge. The strange thing is what I saw did not make sense to be in that part of the edge of a subdivision.
It was approximately 1 o'clock in the morning and I remember not being able to sleep so I was just playing on the back of the couch peering out the window towards my school that was kitty corner from my house. On the corner there was obviously a street light which illuminated the whole intersection between my house and my school. I saw what appeared to be a large hairy man with long hair walk under the street light and stop just at the edge. The first thing I remember is saying that man has really long hair. But But as he proceeded into the light he became apparent to me That this guy looked like Chewbacca. I watched it as it slowly walked away across the intersection into the subdivision and disappeared. When I woke the next morning I remember telling my mother what I saw and she said you must've been dreaming. I told her I swear it looked like Chewbacca and she said that I had a very vivid dream and a wild imagination. When I woke up the next morning I was getting ready to go over to my school where there was an ice rink and play hockey with my friends.
As I walked over across the sidewalk in the edge of the snowbank I saw what appeared to be bare footprints very large. There may have been more than one but as I recall when I saw the footprints I remember telling myself it wasn't a dream it was all real.
Stream Player: