I will be chatting with Kent, Kent writes ""I had a encounter in Kimbolton Ohio in 2005. I was in 5th grade and we were living at our deer camp while our house was being built in north canton Ohio.
We had 127 acres of nothing but woods and 3 smaller fields. Me and my brother always were outside, we didn't have cable or internet or anything like that. All we did was explore, ride our 4 wheelers, build forts usual country kid stuff. We have a smaller creek that ran through our property and we used to catch craw dads in the creek. It wasn't very deep but we we got a lot of rain it would be about 3 feet deep. One day I was going to the creek to continue building this badass fort. It was just me and my dog angel. You had to go over this hill to get to the creek and you couldn't see the creek till your crest the hill. As I crest the hill I seen what I thought was a bear… till angel barked at it. I grabbed her collar to keep her from trying to get it. It stood up then turned around.
I couldn't believe what I was seeing. It was a female (I could see her breasts… they were the first breasts I ever seen lol). She was about 6'6 350lbs , she had reddish brown hair. Her face looked very human she had was covered in hair except around her face and not to much hair cover her chest.
Her face was kinda flat, almond shaped eyes, her arms hung down by her knees. When she stood up and turned around we locked eyes for what felt like a hour. At first I was about to shit my pants but when we were looking at each other The fear kinda faded away. I'm not sure why the fear went away but she smiled. Then she turned around jumped over the creek and ran up this steep hill grabbing trees to hoist her way up. I couldn't believe what I seen, I told my brothers and parents who both laughed and said it was my imagination."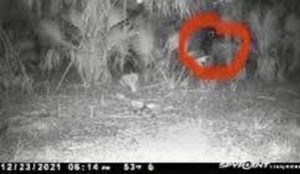 I will also be speaking to Dennis and Dennis writes "I have been trying to figure out if I need to email you or not. I'm not really good at this email stuff. I have listened to all your episodes, except the members only ones. I'm not a member yet. Your an awesome guy you take time to listen to everyone. You have done a great job with your podcast.
Ok hear I go.Episode 830 talked about a man from Okeechobee Fla who had a encounter in fort drum , and on the prairie. Then I listened to episode 873 which was about I think I shot a man. I'm from Okeechobee FL.My brother had a encounter on our home place growing up. Wes I shot one there were it's not far from the prairie. I was with my step brother when I did. I'm shaking writing you this email. I also have a couple pictures of some from were my step brother has hunting land least down there. Episode 873 said you never know who else may have shot one and needs to come forward. This happened back in the 80s.If you would like to talk you can email me back."
Stream Player: