Charlie writes "Hi Wes, At the urging of my girlfriend she has suggested I write to you about our encounter this year over Memorial Day weekend in Big Bay Michigan. I began listening to your Podcast on spotify a few weeks prior to our trip up North.
I will begin by saying I am neither a skeptic or a believer but I am interested in the subject and I found your Podcast entertaining. After our encounter my girlfriend urged me to contact you with our story. I was very reluctant to do so. Since then I have been listening to a number of your previous podcasts and have been keeping up with your current ones as well. Several of your Podcast peaked my interest especially the ones from Michigan pertaining to the dog man. It wasn't till This evening while I was listening to episode 751 where you played an audio clip of an encounter in Michigan that I decided to contact you. The clip you played was literally exactly what we heard in our encounter. We have been struggling to verbalize in words what we heard that night and the best way we have been able to describe it to others was the sound of a yipping Coyote leading into screams and grunts which sounded like multiple animals at once. But what makes this encounter crazier Was an object that we saw in the air moments before we heard the screams. I can only describe it as one would describe a UFO. We witnessed a large bright single colorless all white object that was either diamond or cylindrical in shape. It was not flying at a high altitude and it was not a satellite nor was it the space station or a jet aircraft. It was very peculiar to say the least. The object even seemed to be directing itself straight towards us from the horizon and seemed to slow down as it passed over us. It was shortly after that we heard the screams I described above that match the audio recording in episode 751 from Michigan. We were absolutely terrified to say the least and my girlfriend wouldn't even discuss what we had just said until the next day regardless of my desire to talk about what just happened. To provide some context we were camping in big Bay Michigan in an area called the Huron mountains. This area is not available to the public and is one of the largest privately owned natural reserves of old growth forest (20,000+ Sq acres) this side of the Mississippi.
I have camped and fished there my entire life and I have never heard anything like this. I am familiar with the sounds of coyotes, wolves, , moose, Bobcat , owl's, deer rutting, etc, This was none of that. The area is very desolate there are very few roads, there are no powerboats allowed on the lakes and plains barely fly over. It's about as pristine as it gets. What's interesting about this is that this piggybacks on top of 2 previous experiences. 2 summers ago my son and I experienced a solid cylindrical object approximately the size of a home storage propane tank (6′ x 12-14′) Come out of the woods at the shoreline iand traverse the lake we were on silently while not actually being in the water but seemingly being maybe inches off the water yet casting no reflection and then disappearing into the shoreline on the opposite side moving at about 3 to 5 miles per hour. We know the area of the shoreline well and there is no place to launch a boat or dingy. We were able to capture a grainy image of the event. This occurred on a different inland lake on the property approximately 5 to 7 miles away. However approximately 20 years before that, approx 2003, I was camping very close to where we heard the screams this Memorial Day. In fact I would have been literally a 10 min hike from where we felt the sounds came from. At that time I was camping alone with only my husky. We were rowing in at dusk from night fishing. When we got about 30 yd from shore we heard a bunch of crashing and snapping of limbs coming from the shore line. My dog was alert and very interested and anxious in the shoreline. We watched for approximately a minute as we saw 12′ saplings and young hardwoods bending 90゚ towards the ground and then popping backup as if something was walking along the shoreline pushing them down. We never saw an animal and we never heard any sounds except for one monetary low grumble that was hard to recognize, more like a grumble. It stopped as suddenly as it happened. What is also important to note is that the disturbance along the shore stopped approximately 20 or 30 yd from my camp site. We didn't hear any further noise that night and I never thought much about it until recently.
While we did not see an actual creature (Memorial Day) I can tell you that the experience was far from normal. The fact that we saw this white glowing object traveling in a straight line directly over us as if it 'intended' to go over us added a degree of mystery and eeriness to the whole event.
I'm not sure if this is something you would like to cover on your Podcast but you're welcome to follow up with me if you would like to know more or discuss it. In fact we are actually heading back to that same location next weekend despite my girlfriend's abject terror of what occurred but we are both curious to see if maybe it was our combined energy that manifested the event. Feel free to contact me at any time."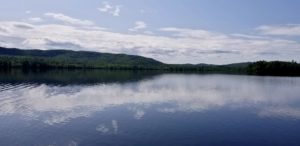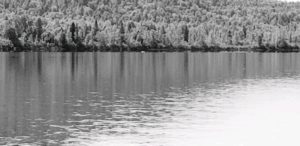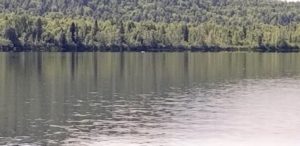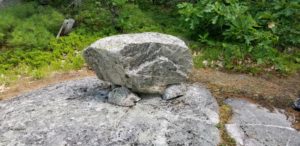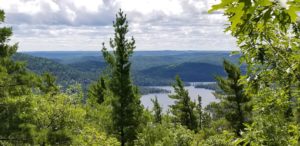 Stream Player: