The Last Show of 2019! Matt from Arkansas writes, "When I was a child at my grandparents farm. I was playing outside when I saw a little animal as I approached the little one a big one came from behind a tree.
He motion for me to come to him I backed away then he pointed at the baby then pointed at me and wave for me to come. I started towards him and he stepped towards me then my grandma yelled for me to come to the house he heard her and blended behind the tree that when I noticed there were more and they all disappeared.
The baby crawled like a cat. Both my brothers had encounters so has my dad. I was also hit in the head with a rock once. I lived in southern Arkansas when this all happened.
Sorry for the messiness of the email doing it on my phone. If you would like to hear the story I would like to tell you about it I've never told anyone because I felt crazy."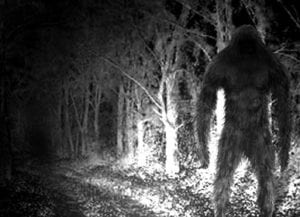 Doug from Utah "It was about twenty years ago when I was working as a hunting guide for Rocky Mountain Hunting Consultants. I had been on a deer hunt for about three days guiding two Germans and a man from Switzerland. The afternoon of the third day I had a little time to do some of my own hunting.
I had never been in this particular area before but the country looked really promising. I made my way up a mountain ridge, hiked across the top of the mountain, down through a canyon and onto a side hill, maybe three miles from where I started hiking. I found a spot that seemed like a perfect place to sit and watch until the sun went down.
Earlier that day I had been hunting with two other guides and from where I was sitting I could see them through my binoculars on the top of the mountain looking down into the canyon to where I was setting . I was pretty sure that below me there would be a trail that would make its way back up to the canyon to the pass where the trucks were parked.
I sat there for about two hours watching all the country roundabout looking for a Majestic buck. About 20 minutes before it got dark I heard a loud screaming or roaring sound echoing through the canyon between me and the truck. It was in the bottom of the canyon and exactly where I thought the trail was that I needed to be on as I would work my way back to the trail head. I had never heard anything like this before and there is no way I can adequately describe the sound and screams that it made. I don't know if it was a call or a warning to stay clear but It was loud, it was relentless, and honestly it scared me.
Now I have spent a lot of time in the mountains and I've heard elk and bear and moose and cougars, any of the number of other animals that you can think of, and whatever this was, it wasn't anything I had ever heard before. I thought the screaming would stop in a few minutes but it didn't. It continued on and on.
I looked through my binoculars back to the top of the mountain where the other two guides had been. It was obvious that they could hear the same thing, because they jumped up to their feet and took off in the opposite direction of whatever was making the sound.
I thought that the screaming would stop pretty soon and whatever was doing it would move off. Then I would be able to find the trail and make my way to the truck. However the screaming just continued on and on. My next thought was that when I turned my flashlight on and started walking up the trail that the light would spook whatever it was and it would move off. Finally it got dark and was time for me to make my way up the trail. It wasn't just dark It was pitch black because it was cloudy and there were no stars or moon, and yes the screaming still continued.
I reached into my backpack pulled out my flashlight and when I turned it on the battery had gone totally dead. So now I had no flashlight and there was no way to take an alternate route around the whatever creature was in my path. So I determined I would find my way to the trail and walk straight in the direction of whatever it was that was that was making sure that everything on the mountain knew it was there and to stay clear . At this point the screaming had gone on for 30 or 40 minutes continuously. I had convinced myself that whatever it was, it was big, and I mean real big and it wasn't happy.
Now I'm not saying what I thought it was that I was going to face but you can probably figure it out. Okay maybe I'm a coward but I put a bullet in the magazine of my rifle, put my finger on the trigger and started making my way up the trail. The closer I got the louder it screamed and scarier it sounded. and it seemed like it was getting bigger and more dangerous the closer I got. If I were asked I would say it sounded eight or nine feet tall. At one point I was twenty or thirty yards from it and it was still in the middle of the trail screaming, it was still holding its ground and there was nowhere for me to go. So I stood there and waited for what seemed like several minutes, finger still on the trigger and pointing the gun in the direction of the screams. I know it sounds crazy, how did I get myself in this situation. There I was, just a few yards from whatever creature this was and it was so dark that I couldn't quite make out the figure that stood in the trail in front of me. The truth is I was scared out of my mind, my heart was racing and it was all that I could do to not to panic and shoot into the dark. After what seemed like several minutes it slowly gave way and I could almost see it as I heard it climb up the hill side and out of my path.
I quickly made my way up the lightless trail stumbling over rocks and debris as I made my way to the trail head not knowing what it was that I was leaving behind me. Thirty to forty minutes farther up the trail I finally reached the truck where the outfitter, two other guides and three hunters were waiting for me. What was it they asked? I don't know, was my reply. "Why didn't you come and rescue me?" All they could say was, "we weren't going to go down there!"