Benny writes "Me and my buddy, Joe, where south of Bradshaw TX. This will be in the fall, 1989. We were crossing the creek in the truck with the headlights off . Had the dogs in the back trying to catch the scent of a coon crossing the road because the wind was up.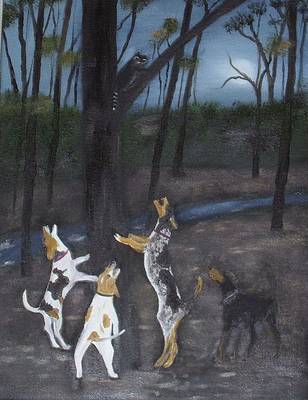 Joe said to flip the headlines on because there's a game warden that usually sits at the top of the hill when you come out of the creek.
When I turn the headlights on something blew up in the fence line, right next to the truck, scared the crap out of Joe and he was headed up the embankment same direction we were going.
When I looked over, I initially thought it was a buffalo. I could see a shoulder and his back. It was on all fours. The back road, we were on had a quick left turn then right turn down the fence line that would put us in the path that it was headed.
When I made the right turn down the fence line, it turn right beside us and stood up and ran down the tree line about 5 to 6 strides then back into the tree line, heading down towards the creek
Somewhere around 7 foot tall never stood directly straight up, ran bent over freaking super wide at the shoulders, narrowed down to the hips and really muscular, butt and legs.
It was a brownish, reddish color, never saw the face the it's left side in his back never got directly in the headlights.
It was a very bright Moonlit night with a storm coming in and the wind blowing. That's why we did not unleash the dogs to run track.
Are usually come in from the north. That night we came in from the south wind in
front of us.
The water was running across the crossing with a bunch of rocks. Making a lot of noise because of the rain we just had that day. I honestly think we snuck up on it."
Stream Player