YEAR: 2004
SEASON: Summer
MONTH: October
STATE: Nevada
COUNTY: Esmeralda County
LOCATION DETAILS: It was about 1,000 feet S.E. of the peak to Boundary Peak Mt.
NEAREST TOWN: Dyer Nevada
NEAREST ROAD: Canyon Trail Rd.
OBSERVED: I have been a police officer in Nevada for over 19 years. In 2004 two of my college roommates called me from Idaho, and wanted to set up a climb to Boundary Peak.
Boundary Peak is the highest mountain in Nevada at over 13.000 feet. It is located in the White Mountains East of Bishop, California. One of my roommates is a loan executive for a bank in Idaho, and the other is a farmer.
We left Boundary Peak trailhead on the last Saturday morning of July, 2004 around 0600 am. Around 2:00 p.m. we were several hundred feet from the summit of Boundary Peak. There were two climbers making their way down the trail towards us. The last 300 feet of the climb is steep with lots of obstacles, and the trail is very narrow.
We waited at our location so that the two climbers combing down would have room to pass on the trail. As we were waiting I spotted a lone climber making his way across the rim rock trail between Montgomery Peak and Boundary Peak. He caught my attention, because he kicked a rock off the West side slope of the sheer rock cliff.
When the two climbers reached our location I observed something moving south about 300 feet down from us in a large bowl. The movement was too fast to be another climber, because the area that it was in was full of small shale rock. This rock is extremely hard to walk in and keep your balance on the steep mountain side. There were also several large boulders in with the shale rock where the trail was that this climber was using.
When I first observed this subject, I said out loud; "Look at that guy go. He is wearing a funny hairy climbing suit." My first thought was that he was some expert climber wearing a modern high tech climbing suit.
All five of us looked at what I just pointed out, and there was a dead calm silence among us. We all sat there for about two minutes and watched as this creature made its way to the trees below us.
While I was watching it, I made the listed observation: This creature would run on two legs upright until it came up on a large boulder, and then it would crawl over it on all four legs and run for a while on all four legs. After a short distance, it would stand back up on two legs and run until it came up to another obstacle.
This creature was between 5′ and 5'6″ tall. Its arms hung down to almost its knees. The head area appeared to have a long hair around the face and head. It appeared to be a light brown in color with darker hair around the head and groin area. Once it reached an area of heavy vegetation, we lost sight of it. It took over 90 seconds to reach the vegetation from the first place that we observed it.
I asked the other climbers if they knew what it was that we just saw. They did not say anything. My first thought was that it looked like an orangutan. I told this to one of my friends and they replied, "Yeh, maybe it escaped from captivity…" Everyone left it at that and we all started back up the summit, while the other climbers made their way down. Before the other climbers left, I asked them where they were from and they said Southern California.
As we were going back up I spotted the other lone climber crossing the divide between the peaks. He was about 1/2 mile south of Boundary Peak. I thought to my self that this climber might have scared the creature from his hiding place when he knocked a rock off the cliff.
Once we were on the peak, the lone climber met up with us. He was an Asian male. I asked him if he saw anything down the South slope of the divide that he just came across. He said he didn't see anything (i.e. anything unusual).
All three of us in our climbing party had cameras. They were all in our back packs when we observed the creature. I initially thought of trying to take my gloves off and taking off my pack to get my camera out. I realized that my camera did not have a zoom on it, and that a regular 35mm would only show a dark spot at a distance of over 300 yards.
When I returned home I told a couple of my close friends about the creature that I saw. I did not want a lot of people to know about what I saw, because I did not want them to think that I was loosing it.
In February of 2007 I bought 10 acres of land about 5 miles from the area that I saw the creature. I did not know it at the time, but this is where I am going to retire. I was talking to one of the local residence and I told them about what I saw up on the mountain. They did not seem surprised, and told me about a local prospector who saw something in the forest that scared him to the point that he does not want to talk about it ever again.
ALSO NOTICED: No; We did not go down to the area where it was observed because of the climbing conditions.
OTHER WITNESSES: Four other witness; Two were climbing friends of mine, and two others were from S. California. The two climbers from Calif. were coming down the trail towards the three of us. When we all met on the trail is when I observed the thing. All five of us saw the creature for about a minute or two.
OTHER STORIES: One of the local residents told me that a miner had mentioned that he saw something in the forest that scared him so badly that he does not want to talk about it.
TIME AND CONDITIONS: 2:00 p.m. Weather conditions; Clear and warm
ENVIRONMENT: Shale rock; Sage brush; Juniper and other small trees and shrubs.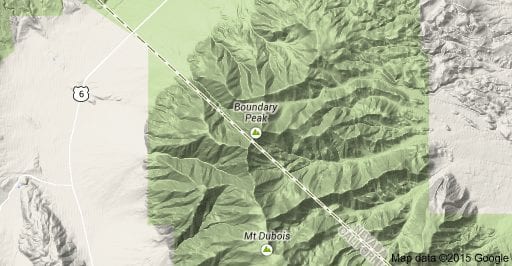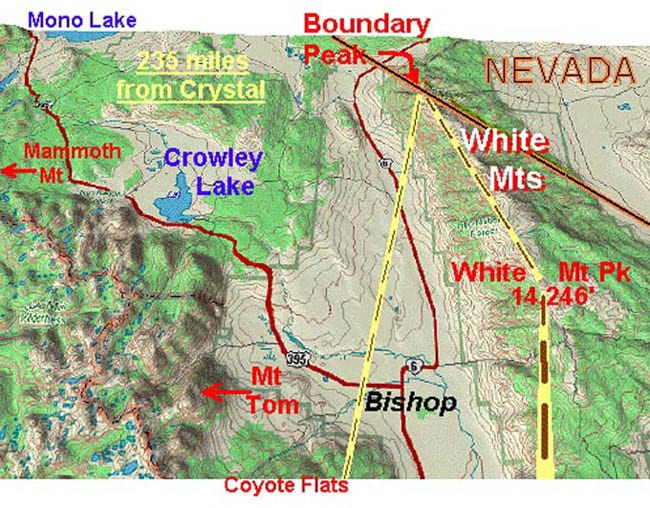 Source: BFRO.NET