Amid the untouched beauty of Alaska's varying landscape, a mystery lingers. Because people seem to go missing at an eerily high rate, a large section of the state has come to be called Alaska's Bermuda Triangle. Alaskan residents and tourists seem to vanish into the largely untouched backdrop.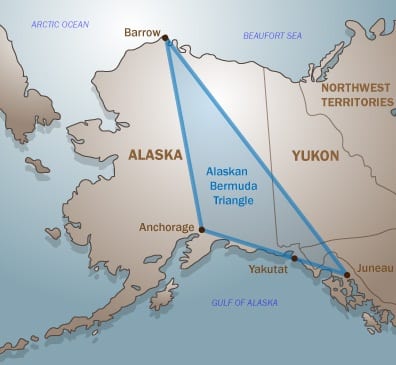 Aside from being known for its natural beauty, the region has an unusually high number of people, including tourists and locals, who disappear every year without a trace, as if they disappeared from the face of the earth. Besides people, many planes have disappeared inexplicably in the region. Since 1988, a total of 16,000 people have disappeared in the so-called "Bermuda Triangle of Alaska".
In 2007, Alaska state troopers added 2,833 missing person notices to their Missing Persons Clearinghouse that maintains all related information. In a state with just over 670,000 residents, that figure averages out to about 4 in every 1,000 people.
There have been over thousands of recorded missing people in the Alaskan Triangle some either hiking or hunting, they have all disappeared without a trace. Now it could easily be chalked up to the harsh climate of the Alaskan wilderness and it multitudes of wild animals willing to eat any potential human who gets lost on their way and the winds and weather in the mountains could easily down a plane without ever trying. So yes, it is quite possible to easily explain the rational to all these people going missing, but to find no trace of any person in all the thousands of missing people cases associated in the area of the Alaskan Triangle, now that seems a bit odd to me.
The Indians native to the state, the Tlingit are sure about the truth of Alaska's Bermuda Triangle. According to their folk-lore there exists a half-man, half-animal that has the ability to lure innocent people and trap them. The Kushtaka are considered evil and overwhelmingly regarded with a certain level of trepidation, there are instances of malevolent behavior on the part of the Kushtaka. The Kushtaka are credited with merrily tricking Tlingit sailors farther offshore to die, imitating the cries of an infant, or screams of a woman to lure hapless victims into rivers, or preying on small children.
What is a Kushtaka? Native Americans use koosh taa kaa to mean a hair-covered giant. Kushtaka is a term to define a Sasquatch-like being who lives deep in the woods, often in caves, underground burrows and rocky outcroppings.