A listener writes "I live on property north of Dallas Texas. I own an isolated wooded area surrounded by open fields. I had some strange things occurring from day one. My best friend that lived on same road had an encounter.
He never mentioned Sasquatch when he told me what happened. His description was of an old homeless man maybe 7′ wearing all gray with arms that went below his knees. About one week before that, a friend of my sons saw a face while we were burning a bonfire half way back on my property.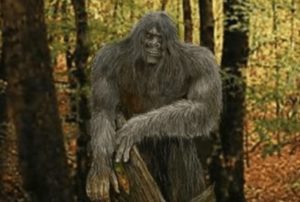 It was down near the ground watching us. He described it as gray and wrinkled like a large large rubber Halloween mask but not a mask. When I first moved there, I had to cut down forty plus trees as the land was completely wild. It is 400 ft wide at the dirt road and goes straight back for 1/2 a mile.
When you walk back, you walk down a ravine about 300 ft from the dirt road. It drops down about 30 ft in elevation and its about 400 ft. wide. When I first moved there I would walk across the ravine and when got to the other side I would stop. I never went past that point unless armed. I not only felt watched but felt threatened. It was all weeds up above my waist and scattered trees."