Editors note> This video has been sent to me several times today and I was not going to post this because I did not want to give it any attention but here are my thoughts. I think this is nothing more than a monkey that was shaved and put into a hairy costume. I think the owners of this video need to be charged with animal abuse and put in jail.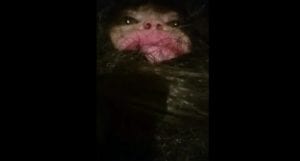 Here is coast to coasts thoughts on it:
Watch: Bizarre Bipedal Creature Captured in Azerbaijan?
A strange video circulating online purportedly shows some kind of hairy creature allegedly captured in the former Soviet republic of Azerbaijan.
In the somewhat unsettling footage, the anomalous animal first appears seemingly immobile with its hairless face standing out amidst a mass of fur with its eyes darting around the room in a rather unnerving fashion.
The creature's hand, which appears to possess black fingernails, can also be seen at times resting atop the fur.
Later in the video, the eerie animal appears walking around a room on two feet with relative ease, suggesting that it is some kind of bipedal creature.
According to an analysis of the footage by Russian cryptozoologist Igor Burtsev, who brought the video to the attention of website Cryptomundo, the language spoken by the people in the footage indicates that the scene took place in Azerbaijan sometime around late last year.
Unfortunately, Burtev gives no indication of what the people in the video are saying, which would go a long way towards deciphering the legitimacy of the footage.
As one can imagine, it is being speculated by some cryptozoology enthusiasts that the creature in the footage is a young Almasty, which is essentially the Bigfoot of that region of the world.
Skeptical viewers, however, suggest that the animal is simply an unfortunate monkey that has been outfitted to look like something more exotic.
Either way, we're guessing that the people behind the video may have regretted their role in the incident as they were either stuck with a baby Almasty running wild in their apartment or what was likely a very ornery monkey once they removed its costume.
Nonetheless, check out the puzzling footage and let us know what you think at the Coast to Coast AM Facebook page.
Source: http://www.coasttocoastam.com/article/watch-bizarre-bipedal-creature-captured-in-azerbaijan/