The Mirror writes "Bigfoot is a legendary ape-like figure said to roam the woods of North America. The creature is feared for his intimidating size and mystery surrounds his very existence.
Theorists believe Bigfoot is a link between mankind and apes having emerged as humans evolved into our present state. Scientists argue there is no credible evidence that a creature matching the description of Bigfoot exists. However, there have been several reported sightings of the figure and footprints have been found in American forests said to belong to Bigfoot. One of the most recent sightings of Bigfoot was shared on TikTok when two men claim to have captured video footage of the creature.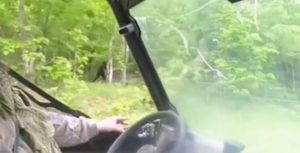 The creators behind the @cryptiduniversity account have shared hundreds of videos about Bigfoot.One of the latest shows the two men filming themselves driving through a forest. While on the move something suddenly catches their eye in the background.
The two can be heard talking to each other in the clip while the camera moves to face the car's windscreen. On the track ahead a fallen tree is seen. The video posted on the pair's account says: "Notice the tree trying to block the road? Top of the tree has been snapped?" As the car moves slowly around the fallen tree the camera pans to the driver. It is believed Bigfoot was spotted at this point in the background from the driver's side window."