Tonight I will be speaking to three eyewitnesses. My first guest Carl writes "Hello my name is Carl and I'm 51 years old married and have a son . I have taken black bear and moose from Canada and hunted all my life and spent a lot time in the woods and hunted birds and all kinds of small game.
At 10 to 12 years old I was hunting on my own by myself and was taught to respect the land and animals that were on it. I knew what was in the woods and the sounds that it makes but what I saw that summer night changed the way I looked at nature and what resides in it. My story is from when I was around 12 or 13 years old living in the country in Ohio. The area I lived in was around 20 min from the Ohio river and interstate 70 but far enough out that it was rural farm and woodlands , very steep and hilly land at the foothills of the Appalachian mountains and just outside of a town called Martinsferry Ohio to give you an idea of the lay of the land . Not all that far from Salt Fork state park. Also known as the Ohio Valley or Tri State area bc you could be in Pennsylvania or West Virginia in a short drive . We owned 50 acres that had been in the family for years and was just really beautiful and great deer hunting. We had been in town to visit my grandparents on a Friday evening and was almost home driving down our lane to our house at around 10 pm.
My sister and I were riding in the back of the car, a 66 Buick no air conditioning with windows down bc it was a hot summer night. As we rounded the bend that the driveway that lead up to the garage door to our house the lights of the car shown across the yard and pond that was at the edge of the wood line and I saw a dark object that was walking at the edge of the woods on a path that my father keep cut going into the woods that he used to drive up into the woods to cut firewood.The opening to the woods was about 10 to 15 ft across. The creature I will call it was around 8 to 9 foot tall and was black from what I could see from the headlights. The creature had no eye shine but could see that it was black and almost absorbed the light as it hit it. It was huge and very broad .The car came to a stop and being stupid and wanting to know what it was I jumped out of the car and ran about 20 feet from the car to see if I could get a better look at what I just saw. The car was parked on the driveway and to the edge of the woods was about 25 yards or less. As soon as the car shut off I could hear yelping and crying that I instantly knew was puppies crying. My sister heard it and came running next to me and in a panic was asking me if that was our puppies that a dog we had just gave birth to a few weeks prior. The creature was still standing just inside the woods and I pointed it out to my sister and she saw it too. We yelled back to our parents and said something got the puppies! I don't know why to this day but if I knew then what I know now I would have never done what I'm going to tell you now.
Not realizing the danger that we where in. Myself and my sister ran towards the crying sounds and in our minds going to save the puppies, the sounds were not where I Saw the big creature standing. The sounds of crying were off to the left and in the woods. Well we only took about 3 to 5 steps and my father yelled at us to get our butts back there fearing it was coyote I think . When he yelled to us the creature standing in the path opening began to move off in the direction of the puppies crying and myself and my sister saw it moving and it moved so fast and disappeared instantly into the brush and woods , it only took 2 steps and it was across the opening. Then it sounded like a train was going through the woods with tree branches cracking and heavy footsteps. We could still hear our puppies crying and the noise stopped and the uneasy feeling was gone and dead silence accept for the crying. Not no birds no frogs from the pond , no crickets, nothing and that is very odd for that property bc if it was night time you could always hear the frogs in the pond in the summer. We asked our parents if they saw the figure standing and if they saw it run back into the woods they said no. He said that we were imagining something there and it was a trick of the car lights and shadows. My father got a flash light and myself and my sister and my father walked across the way and on the path in the woods and followed the sounds of the crying puppies and they were strung out and scattered in about a 20 to 30 yard area almost in a line. All 7 puppies were scared to death and shaking uncontrollably and peeing on themselves. Besides being scared they were not injured. The next day me and my sister walked into the woods and could see something or somethings tore through the woods about 50yards into a clearing that was cut by the power company bc we had high power wires and towers that cut through our property. There was no foot prints or impressions bc the ground was hard and dry from a hot summer and little rain that summer.The tree limbs were broken and some snapped off completely at a height of 7 ft high and you could see a clear path that had been tore through the brush and woods leading to the clearing. In the clearing it was no an open field , it was brier bushes and thickets and you could not just wall through it but there was tore pathways that been made.
We could not follow the tracks through the clearing bc of the thorns on the brier bushes so that stopped there. You could tell it was more than one creature that made its way through our woods that night . These things had come up to our porch and took these pups out of a large cardboard box that we made for them that was tall enough that they could not get out but the mother could step in and out of. The mother dog was missing that night and we didn't see her for a couple days and when we did find her she was hiding under a deck on the back of the house and was very scared and didn't want to come out . Very odd of her bc she was always friendly and not shy. I think these creatures were going to eat the puppies and we just happened to come along when they were in the act of stealing them. I can't to this day figure out why these things dropped the puppies and ran , especially for their size. My sister and I asked our parents what they thought it was that took the pups and they said that the mother lead the puppies there and then left them in the woods. I was never really scared after that day to be in the woods but was always on high alert at night in the woods . As I grew older and hunted the land and surrounding land in the areas I sometimes felt like I was being watched at times and came across what is known now as nest and tree breaks and structures but really never put 2 and 2 together until later in life when I saw Bigfoot programs and things on the internet investigating the subject. That's my story and never told anyone about it in fear of being called crazy and ridiculed. I tried to talk to my father years ago about what happened that night and what I saw and he laughed it off and said I must have imagined it being I was a kid with a big imagination. Thank you for a place or outlet to tell my story and really love your show and hearing other people and their encounters. Thank you for your time."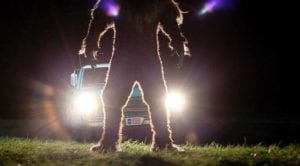 Scott writes "My encounter took place in the fall of 1983 or 1984. Me and a friend were coming back from getting Pizza around 6:30 at night as you know in the fall the sun goes down early so it was quite dark along this stretch of road. This road was 2 lanes with a 3-foot berm that was 2 or 3 feet lower than the fields beside the road. we were coming around a corner and we saw a dark mass standing on the side of the road. When we got closer we could see it was brown and very tall, my friend had a Subaru that had a sunroof in it and when we drove by it looked down at us it's head was over the road and I look through the sunroof and its head was right there. I couldn't make out any facial features but the eye shine was red. We just looked at each other and said did you just see that we both agreed we did and agreed not to say anything about it. Because people would think we were crazy.
I did go back to the location the next morning and looked around but I didn't see any tracks just some mashed down grass.
Judging from the distance from the road it had to be a least 9 and a half to 10 feet tall. That was the first and last time I saw anything."
We wrap up with Jason and he comes to us from Upstate NY. He will be sharing his encounters with us including a strange object in the sky.