A listener writes "It was late summer 1991 in rural west central Michigan. There was a huge tract of undisturbed wilderness close to the house I grew up in.
The locals called it the Austin gas fields, a large acreage uses for the storage and staging of natural gas to be piped downstate approximated several thousand acres. There is state ground that adjoins the gas fields of several thousand more acres. We grew up hunting, fishing, camping,berry picking, motor biking etc in that area. The area was Criss crossed with logging trails ( two tracks). There where area's in there that just give off a creepy vibe, the hairs on your neck would stand on end just weird feeling.
One night myself and two other friends where back in the Austin having a campfire, just sitting around the fire talking about girls, life and our future, but mainly girls , we where in our late teens. We weren't drinking alcohol or doing drugs , we had a few glass bottles of mountain dew that we where drinking as we talked around the fire. Later in the night and out of soda , we where thirsty. I knew from my past hunting trips that just over the hill and down in the valley was a spring fed stream. We decided to go down and fill a couple bottles with spring water. We had two flash lights and made our way down to the stream about 300 yards from the fire and truck. We arrived at the stream and started filling our bottles. I had one flashlight and Randy had the other him and Jeff where approximately 8 foot downstream of me. As I shine the light into the creek to fill my bottle I notice dirty, silty water flowing like something was stirring up sediment upstream of us.
I shined my light up steam and the light revealed a large hairy mass about 30-40′ away standing in the creek. The eyes did not glow red, as so many accounts say. But when the light hit the eyes , there was red eyeshine. Like how a deers eyes reflect green in the light, these where red. At this exact moment another set of eyes appeared above the left shoulder of this thing as if had been hiding behind the first one. I could see long hair on the first one ,the one in the back was shielded from view by the first one. The one closest to me was huge. I could not see any facial features or fine details, it happened so fast. I do know it was LARGE with long darker hair and roughly human shaped with wide shoulders.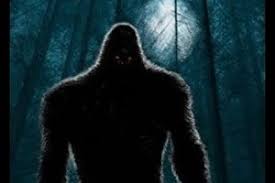 At this moment it growled/groan/roared it was the most intense sound I've ever felt/heard , low deep penetrating bass, almost electric sound . You could feel it in every inch of your body absolutely horrifying. I turned to run and noticed Randy was already 10-15 yards up the hill making tracks out of there. I ran as hard as I could and heard the second most horrifying sound of my life, Jeff screaming in total horror begging me not to leave him , since he didn't have a light. I paused and he made ground quickly and we ran back to the truck. Randy was already there , we jumped in and got out of there. This happened so fast ,literally 5-10 seconds from the time my light hit the thing to the time we started running. We only told a few trusted friends of this encounter back then people where not so understanding.
This was the first experience in that area. There was one other later that year in the same area with two other people.
Thanks for listening, it feels good to vent this, but remembering the encounter I could almost feel that growl again, and all the emotions come flooding back. Jeff was seriously mentally changed that night , it was a downward spiral for him after that night. He committed suicide a few years back."