Tonight night I will be speaking to Connie. Connie said "when all of this started happening I thought it was homeless people but it just kept getting stranger. Several times I would go out on the property and call for my dog and something would mock and mimic me calling the dog. They sometimes call my husbands name. I have heard screams, whoops and strange chatter.
My daughter caught one running off of the porch at the guest house."
Connie said "We are seeing strange lights out here. I wanted to ask you have you ever seen one of these strange lights that almost forms like the michelin man? This strange figure keeps showing up in the pictures. At first I brushed it off as just something strange showing up, maybe it is a light and my eyes were playing a trick on me but this "thing" or strange light in the form of a person keeps showing up.
The strange part is where we are seeing these lights come out of the forest is the same area where the creatures come out. I never wanted this, I just want all of this to go away. Here is a couple of pictures I have many more including hours of audio."
Connie's Photos: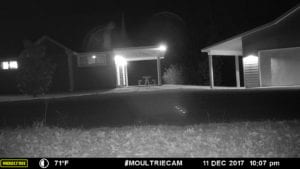 (Figure on the roof)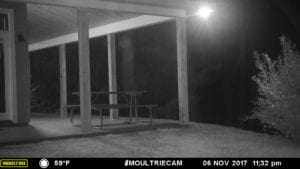 (Strange "light figure" at the back porch)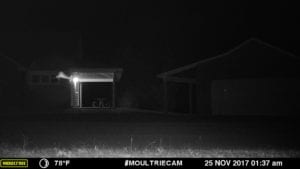 (Strange light flying past the guest house)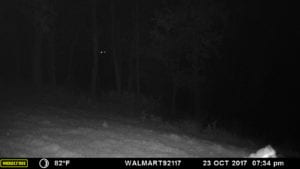 (Something ran in front of the camera and triggered it. If you look in the wood line you will see eye shine of something standing by the tree watching the house)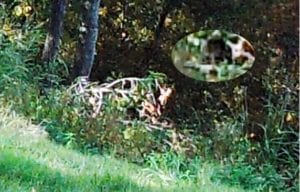 Below is Connie's email:
"In 2007 we purchased 5 acres overlooking the Illinois River in eastern Oklahoma. We built a home and used it on weekends and holidays.
As soon as the home had windows and doors we would camp out inside during the construction. Odd activity started, we would hear odd knocking in the forest across the street, newly installed drain pipe broken, saw blades found at the bottom if the slope. We dismissed it all. We moved in full time around 2012.
Family would visit often, we often sat around a fire pit after dark and make smores, watch the stars ect. We would hear knocking from the forest across the road and one night something came around behind us and started a human like long moan/yell that ended in a owl sound. We dismissed it all. We went on to buy 5 acres next door and built a guest house. 2 years ago we bought the 29 acres across the street and May 2016 decided to open the river view and move a small guest house onto the property. That is when "they" made themselves known in a big way.
We moved our disabled daughter into the guest house and she started calling us in the middle of the night saying someone was hitting her bedroom wall. There was a lot of noise coming from the 29 acres at this point. Tree snaps, metalic banging. We assumed it was kids, homeless people ect, and decided to stake out the guest house and new cabin in the woods with recorders and game cameras. I captured "whoops" and was able to get David Ellis of the Olympic project to verify it was "traditional suspicious vocals". The next 4 months I collected hours of audio…some language…singing, mocking me calling my dog and a young vocalizer speaking a language.
I have a close up picture of a small creature as it passes close, the camera was moved. Too many stories to go into here, but the end result was we sold the main house, the 29 acres will close May 22. We only own the guest house, We moved back to the city and only my husband goes there now. I have tried to share my story, some audio, pictures on 2 different forums…decided that was not going to be worth my time. I am still searching for a way to share this very long story and evidence, I just need it to be taken seriously. We actually moved because of the things and it changed my life forever. I have seen them in pictures…I go out of my way not to have contact….but I have the audio and pictures, that's enough for me. If you are interested in studying the audio or pictures let me know."