The Bridgewater Triangle Area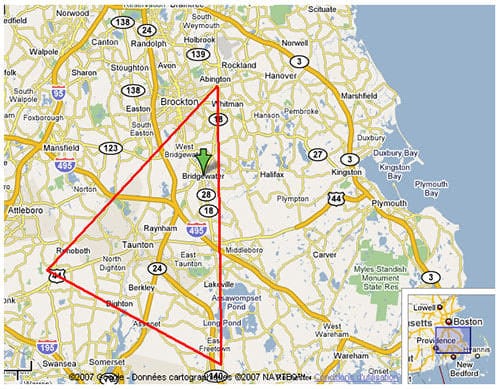 Although not an 'official' Vile Vortex, the inland Bridgewater Triangle is likely one of the world's most concentrated areas of diverse paranormal reports.
Located just 30 miles south of Boston, this 200-mile square area has the Massachusetts towns of Abington, Freetown and Rehoboth at its angles. The town of Bridgewater is located nearly dead center within the triangle and the area also encompasses six other Massachusetts towns: Raynham, Taunton, Brockton, Mansfield, Norton and Easton.
The Hockomock Swamp
The Hockomock Swamp, a 5000+ acre area lies within the western section of Bridgewater Triangle and is the hub of many paranormal reports. Also the site of an 8,000-year-old Native American burial ground, when archaeologists opened the graves of Grassy Island, the red ochre within the tombs bubbled and then mysteriously disappeared. Photographs taken of the excavation would not develop.
The swamp remains shrouded in superstition. Called, "the place where spirits dwell" by the Wampanoag Tribe of the Native American Algonquian nation, the Wampanoag avoided the Hockomock Swamp and the area remains a place filled with foreboding.
Cryptozoological sightings are numerous and varied in the Bridgewater Triangle. In 1970, reports of a big-foot like, 7-foot tall hairy monster and its footprints instigated both the Bridgewater and Massachusetts State Police canine unit to conduct a search for a bear. However, neither man nor bear was ever found.
In 1978, paranormal researcher Joseph M. DeAndrade claims to have observed another such creature as it slowly walked into the brush of the Hockomock Swamp, about 200 yards from his location. He chronicled his sighting in his 1997 book, Passing Strange: True Tales of New England Hauntings and Horrors.
2009 was a hot year the Bridgewater Triangle for Bigfoot sightings in the vicinity of Freetown, the town that serves as the western angle of the delineated map of this bizarre area. The most interesting of these accounts happened on July 14th of that year, when a young man and his girlfriend spotted a "large brown hair-covered "man" standing up from a crouched position on the side of a two lane highway."
"My girlfriend and I were riding in my Jeep on Route 140 from New Bedford to Freetown tonight and at about 11:00 my girlfriend saw this large brown hair covered "man" standing up from a crouched position on the side of the two lane highway. She lets out a scream prompting me to look at the creature standing there. He made fluid movements like a man and had an almost ape-like quality. We couldn't see his face but upon returning to the area we saw the "man" there was nothing. After calling 911 and telling them that someone was running in the median of the highway they told us that they had similar reports of what we saw on the stretch of highway between exit 7 (Braley Rd.) and exit 8 (Chase Rd.) They then told me that they were sending state troopers to investigate."
thebridgewatertriangle.com
paranormal-encyclopedia.com