A listener writes "Hey Wes I just wanted to start out by saying that I'm a huge fan of the show.I wanted to share a possible encounter my dad and I had back in '99.
We live in Southern California and decided to go camping in a remote area of the San Bernardino mountains. I was around 15 or 16 at the time. I don't know where or how my dad found this place but it was out in the middle of nowhere, the place is called Paiute Canyon and it's near Lytle Creek, anyway we got to the camp site and set up and were already finished with dinner and we're just enjoying the sights from the campfire and we heard a very loud howl coming from our left.
The howl was a good deal away from us and was coming from the entrance to the canyon (there's only one way in and one way out of this canyon which kind of resembles a horseshoe) and was very similar to the Ohio howls. At the time both my dad and I had never heard anything like that in the woods before. Whatever it was vocalized a few times and seemed to be getting closer. We kept wondering what the hell it was and decided to load up the guns. After the guns were all loaded up we were back at the campfire when we heard another vocalization (still from our left side) and then we heard a response vocalization coming from our rear right side. The response was more of a whoop. This kinda got us on our toes and pretty alert as to what was going on around us.
I'd say for about maybe 10-15 minutes there was a call and response exchange but every time there was an exchange the sounds would be in different locations like whatever they were was rotating around our camp. Then the sounds just stopped. I should mention that it was sometime in January or very early February, the moon was out and there was a lot of snow on the ground so there was a lot of ambient light for most of the night until a few hours later when the clouds rolled in. The rest of the night was uneventful so we went to bed…with the guns just in case.
Well in the morning we're getting up and part of the plan was to go down and look for tracks to see if we could figure out what it was but sometime during the night it had snowed and left a nice layer of snow on everything wiping out anything that was there.
Thanks for taking the time to read, Wes I'm curious if you've gotten any other reports from the area or even in Southern California in general, just curious because we're pretty urban out here but we do have some really remote areas in the mountains."
I will also be welcoming Bob Gimlin and Russell Acord to the show to talk about some new events coming up and to discuss the International Bigfoot Conference. Get your tickets now at www.internationalbigfootconference.com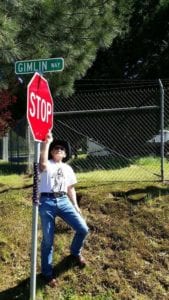 My final guest will be sharing an encounter with a very strange creature about 10 years ago. I spoke to the witness and I am fascinated with her encounter.
Here is a small portion of her account: "We stopped dead in our tracks at the color alone, thinking at first its probably an animal but as we walked along this wood path our feet were heavy and loud and it didn't move at all. To us we saw it in a profile stance, honestly it looked human… it was crouched , balancing high on its toes, arms hanging between the knees, but you could see they touched the ground between the legs at the time I remember this creature ill call it, looking very small but we were some distance away. It looked like it was starving.
You see pictures of girls especially battling severe anorexia and that is the closest I can come to explaining the lack of meat on this creature, It wasn't a person. No way. It appeared to be completely and I mean completely hairless.. it stayed in its profile stance not looking at us.. we walked closer.. it never moved.. we almost started whispering jokingly that it was a scary model or statute from lack of movement even when we got to a point of stomping to scare it off or try to get it to move.. we were scared but we were intrigued.. my friend never walked any closer to it, but I did. Curiosity tends to get the best of me more often than not. I walked closer, I guess to show that there was nothing to be frightened by since it hadn't moved but boy was I wrong.
I walked closer… moving so amazingly slowly as to not startle it because as I got closer the more details I got…I still don't think I was ever any closer than 10 ft away at least….I stopped and reached off the path for something to throw at it…it was right by the garbage cans I mentioned earlier..I threw some things towards that after the stomping and even yelling and talking and done nothing in the favor of what I wanted to accomplish what I saw before I finally got it to move, was something that only at that time I could describe as what a very sick starving human would look like, though even from the side i saw no visible nose, or ears and there was no strong facial bone structure in brow or jawline area…. the neck was the length of most humans down its back the spine was protruding… the tops of the shoulders were so bony they almost appeared pointed.. I saw no shoulder blades ever… no stomach was visible.. only ribs and almost a protruding type chest bone… My literal first thought from me and her at the time was this is a alien.. After all my attempts to move this guy had failed I finally started kicking some of the debris I had dropped earlier at it. Then finally after what seemed like an eternity of looking at and harassing this creature. it moved..the creepiest moving thing I had ever seen."
After speaking to the witness she said that the creatures body reminded her of the creature with the gas mask on the Pink Floyd The Wall except the head was different but the way the creature was sitting and how it's body appeared was very much like the picture below just remove the head because the head was different.